I watched Metropolis the other day for the first time.
Wow.
It ain't my bag. I just figured since I am a silent film fan, I gotta see the one that is pretty famous and well known, even among people who don't love silents. But me, I like the movies with the flappers and very 1920s looking, ya know? Metropolis was very futuristic and modern with it's ideas. It was also very German lol. Loved Brigitte Helm though, she is incredible. And I am so happy that more footage of it was found. Gives hope for the thousands of lost films out there.
I just wanted to talk about some the cool facts about the film because it was/is a pretty influential film for being as old as it is. And it is one of those films people say you should see before you die, so...go see it!
Not suprisingly, this was one of the most expensive films during that time. It was around $200 million dollars!
It was also reportedly one of Hitler's favorite movies. Nice, eh? Fritz Lang's wife was a supporter of the Nazi party, and members saw the film as a social blueprint. Even more interesting? Fritz Lang was Jewish! Supposedly Hitler liked the film so much, he let the director flee to the United States.
Around 20-30 minutes of the film that was believed lost was found in a museum in Argentina in 2008. Shortly after, it was announced that even more footage had been found in Chile. Apparently the film cannister was purposely mislabeled to avoid being destroyed during a time of military coup in Chile. From what I have read though, the Chile film has not been put into the newly released edition. I could be wrong though, but from what I have read, that is the impression I get.
This movie took 2 years to shoot, and I can see why! I mean, movies now take that long and they have all the fancy technology, but back in 1927...man...can you imagine? A lot of hand work and fancy editing techniques.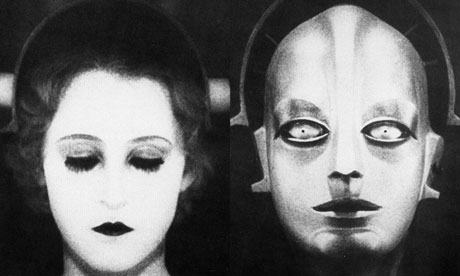 When you first see/meet the robot, it is actually Brigitte Helm inside. See, this is why I love her. What a trooper! After her role in this film, almost all of her following film roles were starring roles.
Like I said earlier, this film was quite influential. C-3PO from Star Wars was modeled after the robot. I didn't know this till after I watch it, and it is kinda weird how they walk the same and look like they are made out of the same material. Also, the creators of "Superman" liked the film so much, they named Superman's city after the title.
Not surprising, but the film was panned by critics when it first came out. Even famous science fiction author H.G. Wells didn't like it.
This is one of my favorite silent film pictures. Brigitte looks so young and adorable, even when she is dressed as a robot! It is just so cool/bizarre how modern the picture looks, yet it was taken in the 1920s. Such an awesome picture. I wish I could get it framed and put in my house.