It surprises me sometimes when I come across a personality I haven't covered, especially someone I have visited at the cemetery. Case in point: Agnes Ayres.
I just got the coolest book ever from Amazon. It's called Dangerous Curves atop Hollywood Heels: The Lives, Careers, and Misfortunes of 14 Hard Luck Girls of the Silent Screen by Michael G. Ankerich. And what is really amazing about this book is that it covers some of my favorite, but lesser known actresses like Olive Borden, Martha Mansfield, Barbara La Marr, and even Lucille Ricksen. I am really diggin' the book right now, I am up to the part about Grace Darmond. It has so much info about these girls, I highly recommend it.
Anyways, I was reading the first chapter on Agnes Ayres and I realized that I have visited her resting place (niche, if you will) twice but hadn't done an entry about her. And of course watched and loved her in the Sheik movies with Valentino. She had a hard time dealing with Hollywood, but she was able to be strong through it...for the most part.
Agnes Ayres was born Agnes Eyre Henkel on April 4, 1892 in Carbondale, Illinois. She joined her father, Solon, mother, Emma, and brother Solon Jr. Her father died when she was still a child.
Agnes made her first screen appearance in 1914 as an extra in a scene for Essanay Studios. She really caught the acting bug after that, and moved to New York City with her mother to work in the movies.
Lucky girl she was, she was spotted by actress Alice Joyce who thought Agnes looked like her (we can kinda see it). Alice asked that Agnes be given the part of her sister in a 1917 film, and she slowly began to rise on the stardom staircase.
It wasn't her appearance in the film that helped make her a name, but rather another person who spotted her. This time, the spy was Paramount Studio head Jesse Lasky and he was interested in her for more than just her acting abilities. He helped to get her a starring role in one of Cecile B. DeMille films, 1920's Held the Enemy, a civil war film.
Her biggest break came in 1921, when she appeared in The Sheik with the man himself, Rudolph Valentino. Although the two never had a romance off screen, they did become good friends.
Agnes followed up that great film role with more great film roles. She appeared in Forbidden Fruit in 1921 with another screen idol, Wally Reid, and DeMille's Ten Commandments in 1923. But as fast as her star had risen, it began to fall almost as quick when her relationship with Lasky soured. Go figure.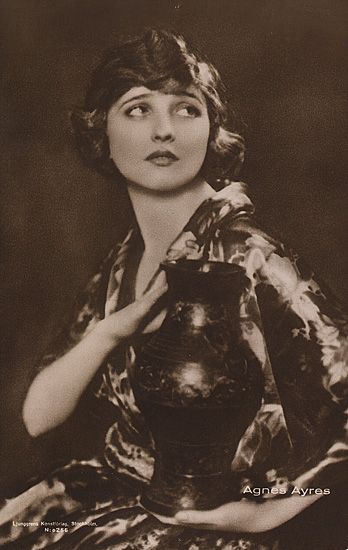 She did appear in The Son of the Sheik in 1926 as a favor to her friend, Valentino. She reprised her previous role as Diana.
She appeared briefly in a few films later in life, but her last credited role was in 1929. She had lost her money in the stock market crash and was looking for work to try and get her money back, but she couldn't earn what she used to anymore. She finally retired from film and stage in 1937 after failing at a real comback.
Agnes Ayres passed away on Christmas Day, 1940 at her home of a cerebral hemmorhage. She was 48 years old. She had been in a sanatorium briefly before her death and had been in ill health since.
She was cremated and interred at Hollywood Forever Cemetery. The lighting the room where she was placed isn't aces. I had to use my cell phone as a light to find her niche in the corner of the room. So, keep that in mind if you ever visit.
Agnes was married twice. Her first husband was Captain Frank Schuker, whom she married during WWI (I don't know the exact date). She divorced him in 1921, and shortly after began her affair with Lasky. The affair with him eventually ended when she realized that even though he wasn't happily married to his wife, he was not going to divorce her. Her second and last marriage was to a Mexican diplomat named Manuel Reachi in 1924. They divorced three years later, and Agnes was quoted as saying, "Latin men make excellent lovers, not husbands." They did have a daughter together named, Maria, who had the lucky distinction of having Valentino and Pola Negri as god-parents.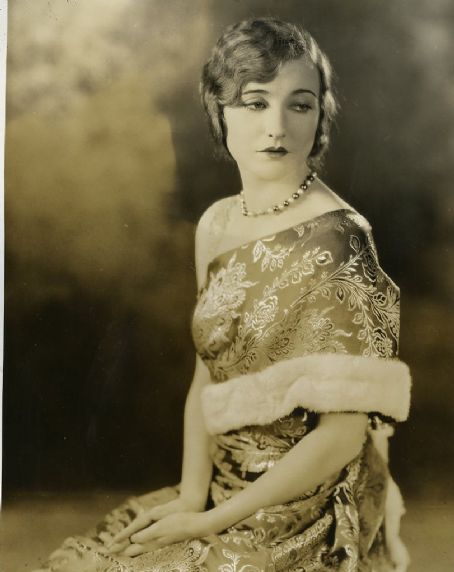 Agnes truly adored her friend Valentino. He was godfather to her daughter, and she named her dog Tino after him. While she was touring the country speaking about her life in the movies, she always would talk about him and say that there will never be another Valentino. So true.
She used to share a dressing room with Gloria Swanson during her early acting days.
She was a victim of the "too fat" stigma from studio heads, even when she brought in photographic proof that she hadn't gained any weight. Stupid men.