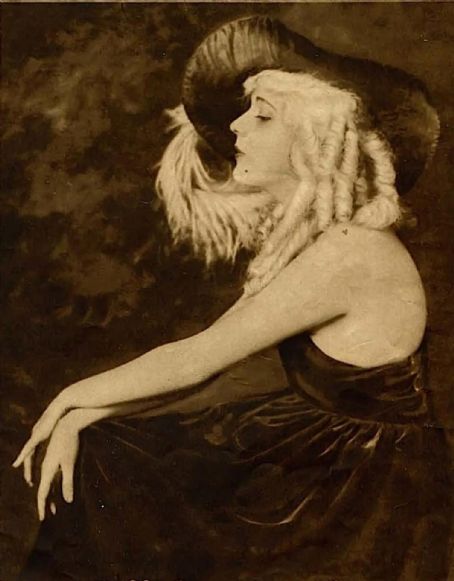 There are so many actresses out there that have had the word/stigma, "tragic" added to their names. I have talked about a few on my blog. Florence La Badie: tragic because she died so young and at the peak of her career. Olive Thomas: tragic, for the same reasons. Carole Lombard: tragic, her life was taken in a plane crash. But, doesn't it seem kinda weird to call them "tragic actresses" when they had a positive impact on the screen and their fans. I think it is more appropriate to call Sarah Bernhardt a tragic actress because of the roles she played so well.
Alma Rubens is what would be classified as a tragic actress because she died young due to drug addiction. Now, that is tragic. She is not alone in this though. Barbara La Marr, Mabel Normand, Marilyn Monroe, Judy Garland...all beautiful and talented women who had their lives cut short due to addiction.
So, lets try and think of the good these women brought to the world when we see them forever glamorous and beautiful on the screen.
Now on too Alma...
Alma Rubens was born Alma Genevieve Ruebens on February 19, 1897 in San Francisco, California. Her father was named John and her mother was named Theresa. Alma joined an older sister named Hazel who was four years older.
She got her start in acting early, and decided to change the spelling of her last name to "Rubens" when she was around 20 years old because she felt the original spelling was too confusing for publication. This girl was thinking ahead!
The same year she decided to change her name she got her first performance opportunity. Alma was hanging around the theatre one day and she was asked to take the place of another chorus girl on stage when the girl got sick. She ended up staying with the show and moved to Los Angeles where she decided to try her hand at the new medium of film.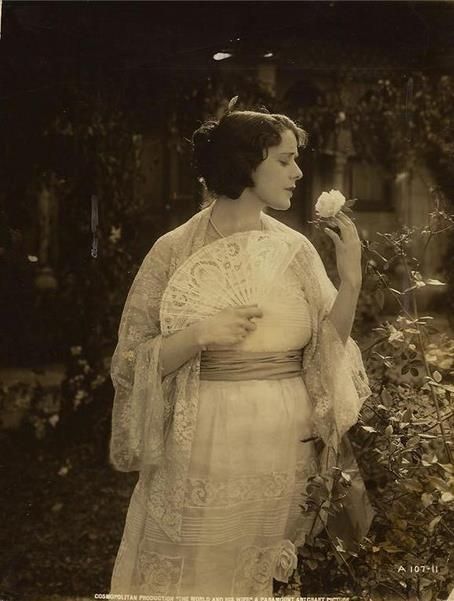 Alma made her screen debut in 1916 in the film Reggie Mixes In. She had the opportunity later that year to star along side male superstar Douglas Fairbanks in The Half Breed which really helped boost her career.
She worked hard in movies until 1924 when she decided to take a break from the movies. She thought she would go away for a bit and when she decided to come back, everything would go back to being as great as they used to. She was wrong.
In 1929, she appeared in a part talkie version of Showboat but sadly, the soundtrack containing her speaking is lost. Not surprisingly, Alma didn't prosper in the talkies.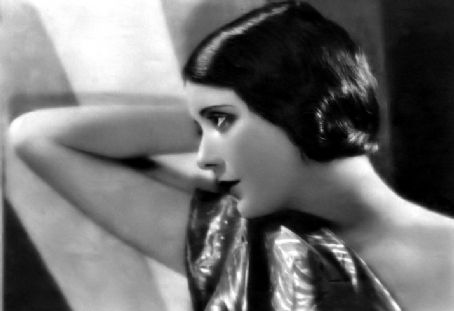 It wasn't so much the changing of tastes in audiences that caused Alma's film decline, but rather a nasty drug habit she developed. She was in and out of hospitals and institutions and as usual in those days (and now) her addiction was kept under wraps. Unfortunately, it became public knowledge after Alma attacked a doctor who was trying to treat her in an institution she was staying in. At a different facility, she actually managed to escape for awhile before coming back on her own.
Alma made a final stage appearance in 1930. She was also arrested that same year for drug possession. She claimed it was a frame up and that she could have a slew of doctors write that she was not a drug addict. She was released on bail and had to appear in court early the next year.
Alma Rubens passed away a week after her court date on January 22, 1931 in Los Angeles. She was only 33 years old. She laid in a coma for three days before she died with her mother and sister by her side. Her cause of death was listed as pneumonia, her body weakened by her drug addiction.
She was entombed at Ararat Cemetery in Fresno, California.
Alma was married three times. First to actor Franklyn Farnum in 1918. Franklyn was actually the one who convinced Alma to try out the movies along with him. He was also 20 years older than her. Their union lasted only a month. She didn't marry again until 1923 when she wed Dr. Daniel Carson Goodman, who was also a published author and film producer (jack of all trades, eh?) They divorced in 1925. Her third and final marriage was to actor Ricardo Cortez in 1926. She was in the process of divorcing Cortez when she died. Sadly, he never knew she was sick because he hadn't talked to her for months and he wasn't even notified when she had died! None of her marriages resulted in children.
Alma claimed that her drug addiction was not her fault. She claimed a doctor gave them to her as a treatment for another ailment, so she eventually used it for every little health issue she had...real or imaginative.
"As long as my money held out I could get drugs. I was afraid to tell my mother, best friends. My only desire was to get drugs and taking them in secrecy." ~ Alma Rubens in her last interview.